Listening to the Atmosphere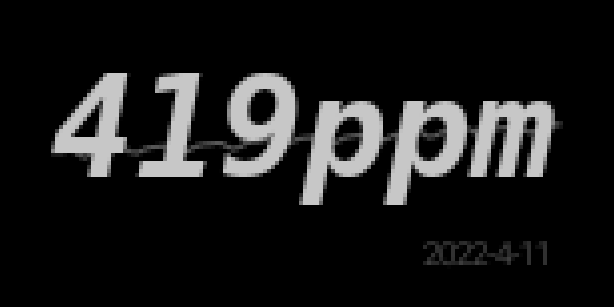 I've built a small single-purpose Norns script that does one thing - emitting a tone with a pitch that represents the concentration of CO2 in the atmosphere. The script is called "ppm".
Pre-industrial CO2 levels were about 278 parts per million (ppm), which I've mapped to the lowest C note on a piano keyboard (C0). When concentrations hit 507ppm, we'll likely have reached 1.5C of warming, a threshold for severe climate impacts on people, wildlife and ecosystems. That value is mapped to middle C (C4). Right now, we're at 419ppm - more than half-way to the threshold.
In the description of the script I wrote:
There are no controls. To change the output frequency, change your habits and elect politicians who support strong and immediate climate action.
The goal of most Norns script is to make something that's either useful or sounds good. This does neither of those things. It exists solely to get people to think about the climate crisis when they're making their art.
If you have a Norns, you can download it from the Maiden catalogue. If you don't then stay tuned - there's a good chance I'll make it into a website in due course. When I find a moment…