Tenday Notes 11 July - 20 July 2023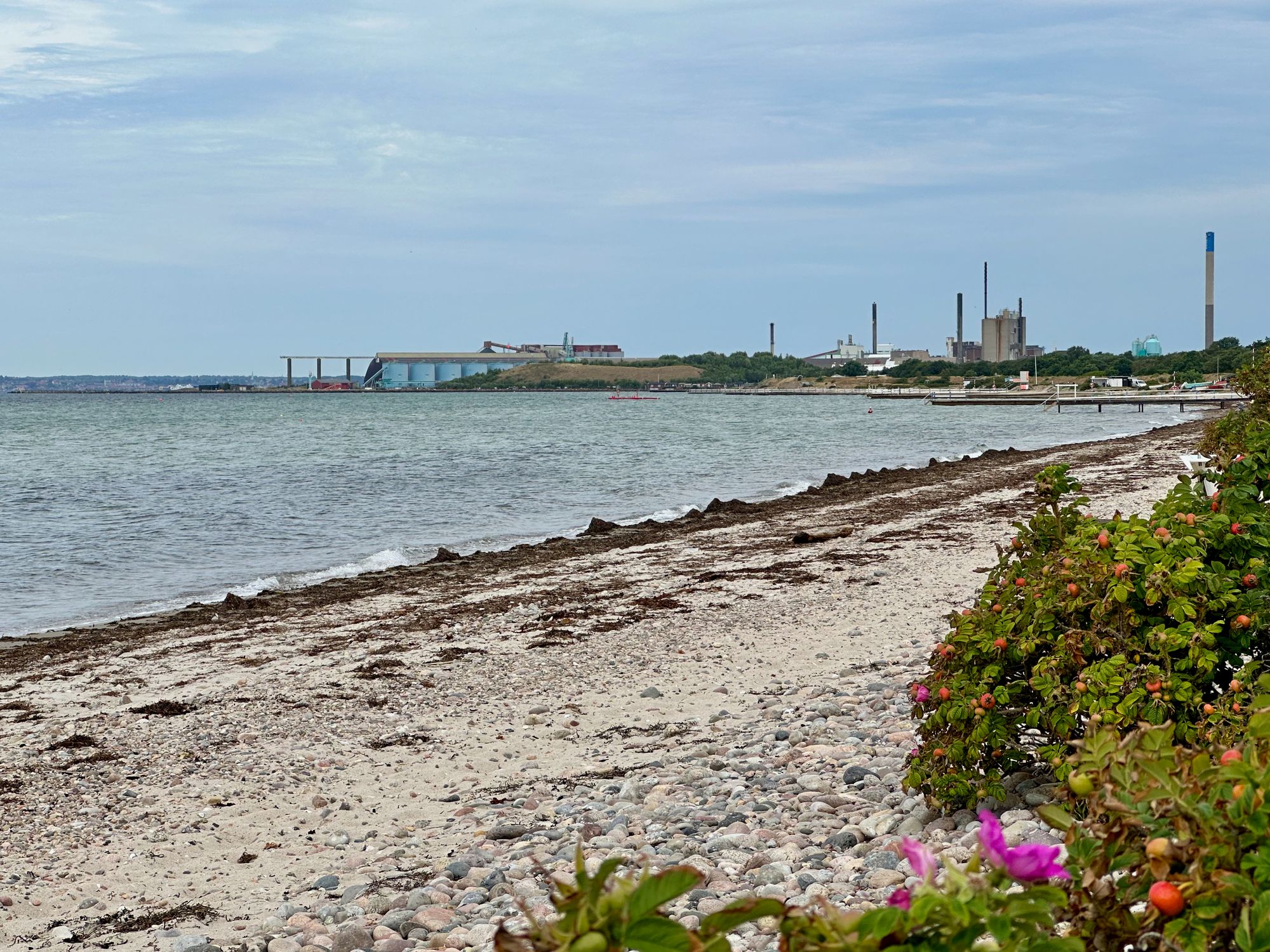 Every ten days or so, I share a quick digest of what I've been working on and reading. Here's the latest. More in the series here.
---
Are you familiar with the concept of pace layers? It's an invention of Stewart Brand, describing how society changes at different paces. The slowest pace of change is nature, then culture, then governance, then infrastructure, then commerce, and finally fashion - which changes fastest. It's a concept I've found very useful, one which describes a lot of other things too.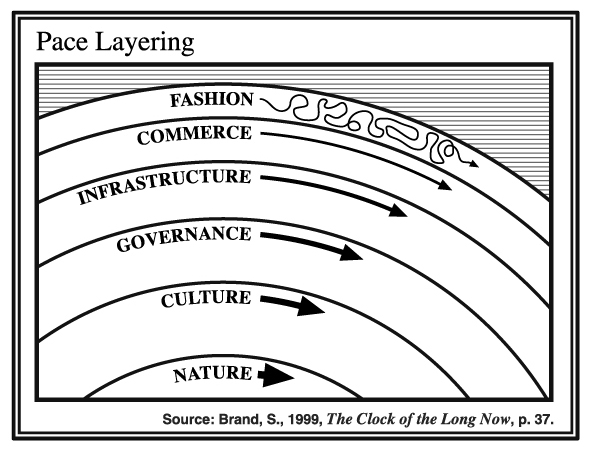 I was talking to my friend Gabby the other day about how I'm trying to read fewer news articles, and more books, and I realised that I kind of have a pace layer thing going on there too.
My reading layers, going from slowest to fastest would be: books, longform articles, RSS feeds & newsletters, newspaper articles, forums and chatrooms (Discord, Slack, etc), and then social media at the top.
Layers that are higher up change faster, but are quicker to experience. When I've got a couple of minutes and I'm looking for something snacky, I'll opt for one of those. When I've got a long train journey and I want to immerse myself into something nourishing, I'll opt for a lower layer.
Just like with pace layers, though, I feel like I spend my life a little higher in the strata than I would ideally want to. I'll opt for another refresh of the Guardian homepage over opening my read-it-later app, let alone pulling the book out of my bag that I brought along with the best of intentions.
So I'm working on that. And having a mental map of where I am and where I want to be is helpful. So here's my recreation of Brand's pace layers as reading layers. Maybe it'll be useful to you too?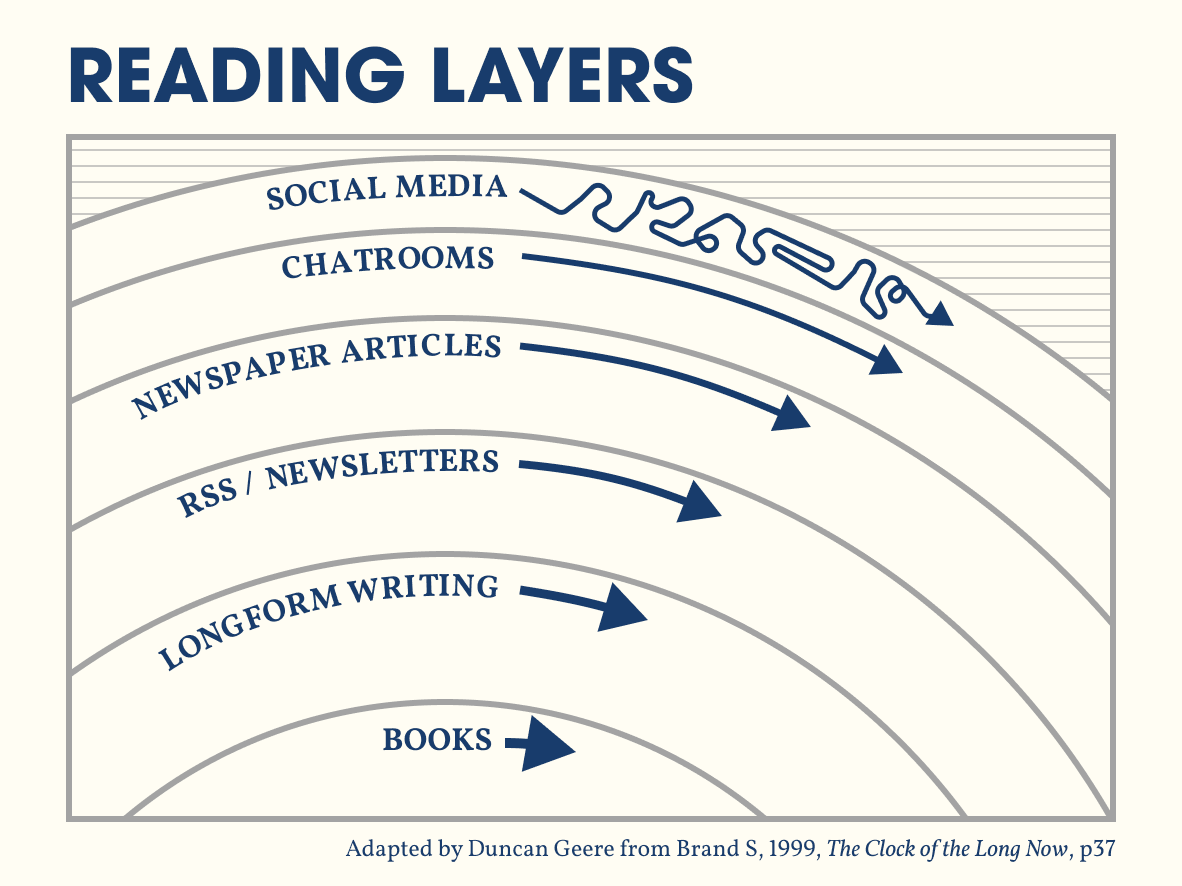 This bit of the newsletter is cross-posted here for ease of linking:
---
About forty years late to the party, but I discovered MIDI CC recently. For those who aren't familiar, it's basically a way for one digital instrument to tweak some parameter of another digital instrument's sound.
So I've been reworking a few of my Norns scripts to output CC signals.  gridofpoints has had an official version number bump, while loudnumbers_norns hasn't yet - I want to make a few more improvements before releasing that one.
Ultimately  the update to loudnumbers_norns allows you to plug a Norns into a synthesizer and use it to create non-pitch sonifications without getting a laptop involved. So that's kinda neat. I don't think that's something that exists elsewhere.
I know most of you aren't Norns users and don't give a hoot about this stuff, but it's here for the handful who do!
---
Until recently, duncangeere.com sent you to what is essentially the shop window of my information design business. But that kinda feels like it does a disservice to all of the other things I do. So I've spent a bit of time in the past 10 days preparing for a bit of a reshuffle.
The stuff that was previously at http://duncangeere.com now lives at http://klimat.studio (which is the official name of my information design business, and has its own brand). Soon, duncangeere.com will be a landing page that'll point to my various identities on the rest of the web - but right now it just has a thing saying "under construction".
As well as getting the new duncangeere.com live, there's a bit more work to do - redesigning the content at klimat.studio to match the studio's branding, getting a hello@duncangeere.com email address online, and perhaps shifting to a self-hosted file syncing system in place of Dropbox. I'm also thinking about putting up a site at duncangeere.art to centralise that work.
I'm just creating a lot of future maintenance work for myself, aren't I?
---
I did quite a lot of the dataviz for a report that Possible put out recently, showing that tweeting about low-traffic neighbourhoods (LTNs) had no statistically-significant effect on the electoral fortunes of councillors in the 2022 local elections in London.
There's a widespread perception among politicians that expressing any enthusiasm for LTNs is going to tank your vote share. We found that this is not the case: expressing any opinion at all - positive or negative - made no difference to the likelihood that an individual councillor would hold or lose their seat.
My favourite chart I made, though, was one that showed the distribution of positive and negative tweets between parties. Turns out that not a single Conservative councillor tweeted anything positive, and not a single Labour councillor tweeted anything negative about LTNs in the run-up to the election.
Hopefully this will give councillors more confidence to speak the truth - that LTNs reduce traffic within their area, and don't increase it on boundary roads.
---
The new Yard Act single, The Trench Coat Museum, is 8.5 minutes long, extremely LCD Soundsystem, and I'm 100% here for it.
---
Finally, did you know that Sweden has its own typeface? It's called Sweden Sans.
See you again in 10 days.
- Duncan